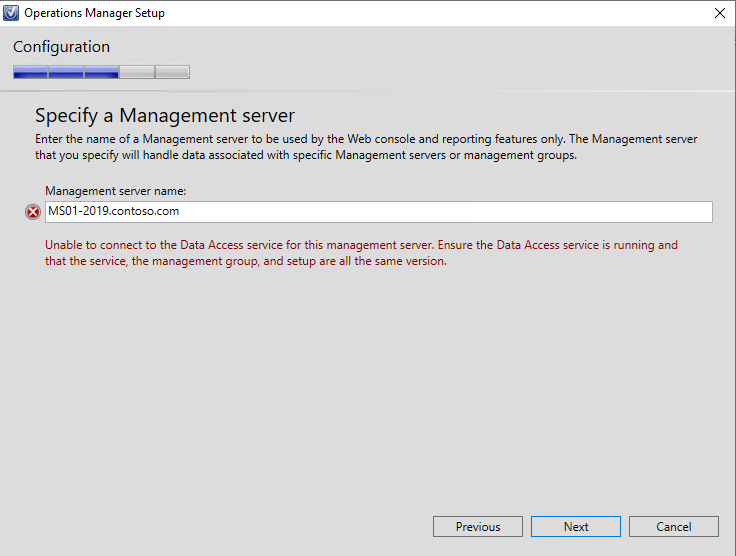 ---
Issue Description
The issue I have seen is the following error message in the SCOM Reporting Services installer:
"Unable to connect to the Data Access service for this management server. Ensure the Data Access service is running and that the service, the management group, and setup are all the same version."
The problem stems from an SCOM 2019 Update Rollup that was previously applied to the Management Server and this causes the SCOM Reporting Services to fail due to the Reporting Services installer expecting the RTM version to be present.
The regression was introduced in Update Rollup 1 for System Center Operations Manager 2019 (KB4533415)
The "Operations Manager Products" view in the Admin console did not update the Version column for the installed component version. This column now reflects the updated version of all the listed components.
Solution
The following may resolve the above error for you:
Start by connecting to the Operations Manager database via SQL Server Management Studio. (Create a backup of your Databases prior to any direct edits)

Get the current version of the Management Server you are connecting SSRS with note the version (we will use this later to revert the changes to the DB)

Get Version

 

-- SCOM 2019 RTM


 

-- 10.19.10050.0



 

-- SCOM 2019 UR1


 

-- 10.19.10311.0



 

-- SCOM 2019 UR1 - Hotfix for Alert Management


 

-- 10.19.10349.0



 

-- SCOM 2019 UR2


 

-- 10.19.10407.0



 

-- SCOM 2019 UR2 - Hotfix for Event Log Channel


 

-- 10.19.10475.0



 

-- SCOM 2019 UR3


 

-- 10.19.10505.0



 

-- SCOM 2019 UR3 - Hotfix for Web Console


 

-- 10.19.10550.0



 

-- SCOM 2019 UR3 - Hotfix Oct 2021


 

-- 10.19.10552.0



 

select


     

PrincipalName

,


     

Version


 

from

 

MTV_HealthService


 

where


     

IsManagementServer

 

=

 

1

 

and

 
     

PrincipalName

 

=

 

'MS01-2019.contoso.com'




We will run the following query to update the Management Server to the RTM version of SCOM 2019 (10.19.10050.0):

Update Version to RTM

update

 

MTV_HealthService




set

 

Version

 

=

 

'10.19.10050.0'




-- SCOM 2019 RTM




where

 

PrincipalName

 

=

 

'MS01-2019.contoso.com'




Install SCOM Reporting Services!

After SCOM Reporting Services installs, you will need to revert the changes to the SCOM SQL Operations Manager database, run the following SQL Query to return the Management Server version back to the version returned in Step 2:

Revert Change

update

 

MTV_HealthService




set

 

Version

 

=

 

'10.19.10552.0'




-- SCOM 2019 UR3 - Hotfix Oct 2021




where

 

PrincipalName

 

=

 

'MS01-2019.contoso.com'



Share on: